Acuative's implementation services provide efficient and reliable deployment to seamlessly integrate new equipment and technology into your workplace. From the moment the project planning begins to the final testing and cutover, Acuative ensures that every stage of the installation is conducted with minimal disruption to your workflow.
global managed implementation video
There are many factors that contribute to a successful installation and Acuative manages them all, while keeping you update every step of the way. The result? Installations that are right, the first time and every time.
PROJECT MANAGEMENT
Through the inevitable challenges and changing dynamics of a large rollout, particularly those encompassing large domestic or global geographies, Acuative project managers maintain tight control of the entire implementation process and ongoing day-to-day operational needs.
Their playbook features reliable and standardized processes and tools in keeping with industry best practices and Acuative's quality program, ASE, to develop and execute high-quality rollout strategies for all of your sites.
Our PMI-certified project managers coordinate directly with all Acuative teams involved in supporting your project - field service teams, technical support teams, outside vendors, and other internal departments, from the initial order process through the successful test and verification of the service. Eliminating information silos and fostering collaboration, the project manager makes the all the connections necessary to streamline the implementation while keeping you apprised through every phase of the project:
Planning
Initiation 
Monitoring
Execution
Closing
Acuative's project management ensures successful fulfillment of your project's Scope of Work and overall satisfaction. 
---
ON-SITE TECHNICAL SERVICES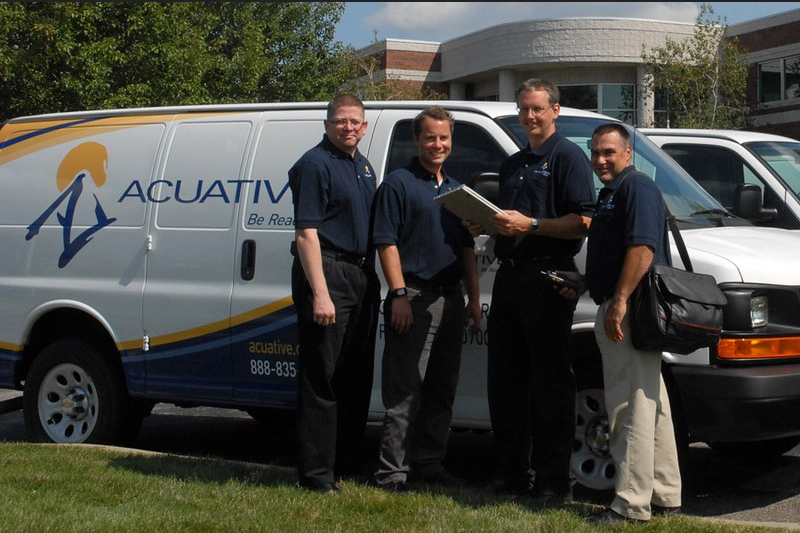 One of Acuative's most mature services is our North American field force, comprised of predominantly an employee-based force augmented by a well-vetted variable workforce. This employee-based model gives Acuative the ultimate in control and quality. Learn more about the team here:
STAGING
Ensuring accurate rollouts, speedy deployments, and optimum network efficiency.
Acuative offers a full range of modular staging services to meet all of your needs, from simple to complex. 
These services ensure your equipment is accurately prepared, configured and tested, ready to support you when it arrives on site. Out-of-box failures and incorrect configurations are caught before the product leaves our facility. All factors that may contribute to a system failure are carefully evaluated, verified and tested utilizing industry best practices and in accordance with Acuative's quality system tools and methodologies.
Staging Services include:
Review and validation of provided engineering configurations.
Checking incoming equipment for damage, verify models and quantities, unpack, check serial numbers, assemble, power on, configure, burn-in, configure, verify, test and document in Acuative's staging lab.
Testing, documenting and processing return of manufacturers' equipment (RMAs).
Managing inventory to the highest standards, ready for deployment and seamless integration on site, Acuative logistics and materials management teams deliver the services that streamline your network support.
Our Primary Distribution Center in Ohio At-a-Glance:
80,000+ square feet of floor space
Hundreds of thousands of cubic feet of storage
Multi-level racks and a pallet system
Multi-level dock access
Movable conveyor systems
Trailer, light-duty and ramp access
Ability to ship / receive from a variety of vehicle types
Environmental controls
Climate-controlled environment
Back-up diesel generator
Security systems, tracking and monitoring
Barcode/warehouse management system
Camera and cardkey control access
Logistics and Materials Management
Getting the right parts and equipment to the right place at the right time!
Managing inventory to the highest standards, ready for deployment and seamless integration on site, Acuative logistics and materials management teams deliver the services that streamline your network support.
For both domestic and global needs, we fully manage client-provided or Acuative-procured inventory within our primary warehouse, regional depots and individual technician inventories, ensuring compliance with your SLAs and meeting your timelines for projects of all sizes.
Acuative handles it all – logistics, coordination, configuration, staging, testing, shipping and complete reporting on your hardware assets, including asset tagging and tracking of serial numbers.
Experts in global deployments, Acuative understands and maintains control of international shipping and customs complexities.
Our primary warehouse, located within our Global Technology Center in Cleveland, Ohio, is a highly restricted, secure environment with video surveillance and environmental controls.
CIRCUIT COORDINATION
If your rollout includes new circuits, Acuative has a specialized team to order and track the entire process. Do not let circuit service provider's affect your rollout. Learn more about Acuative's circuit team here:
STRUCTURED NETWORK CABLING  
Complete structured cabling and premise wiring design, installation and testing, and more, to ensure your physical layer infrastructure supports your network.
First, we understand your network requirements and develop a plan including recommendations for wiring, cable type and performance. Next, following TIA standards, code requirements and fire regulations, we complete the installation using our own technical site specialists. Finally, we provide cable management, testing, documentation and warranty to complete the solution. Our specialists have met rigorous requirements to earn certifications for the design and installation of cabling to industry standards.
Structured Cabling Services include:
Services for both existing site renovation and new construction
Planning and design for physical layer including consulting, project management and cabling standards development
Telecommunications room and data center design and build-out
Wall mount and freestanding cabinets and racks, cable tray and raceways, patch cords, patch panels, and termination blocks
TIA 568B installation
Ongoing maintenance and support      
Certification and qualitative testing      
Moves, adds and changes
Standards
TIA 568B, TIA 569, TIA 570, and TIA 606